The Helfrich FamilY
The modern face of Alsace.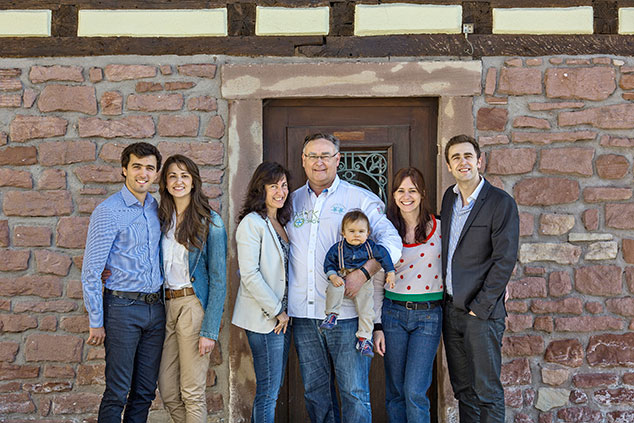 A family story
Alsatian wines have centuries of tradition behind them, and the Helfrich family is descended from a long line of Alsatians.
For the past three generations this family has been prominent in the wine and spirits business in northern Alsace. Grand-father, René begun producing classic Alsatian products, such as homemade fruit brandies like Kirshwasser, Schnapps, plum white brandy, and classic Alsatian varietal wines.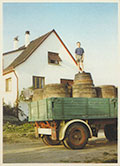 Inspired by a love of his Alsatian homeland, René's son Joseph embarked on a new venture in the wine and spirits business. In 1979 he founded Les Grands Chais de France, which has since become one of the most successful wine companies in France. Frederic Helfrich and his sister Anne-Laure represent the newest generation of the family.
The Helfrich family introduced thewine renaissance in Alsace at the cutting-edge of technological and oenological innovation.
Our Philosophy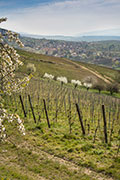 We passionately create our own Alsatian cuvée, vinified in Marlenheim, offering a subtle combination of terroir authenticity and aromatic freshness. Its crisp vibrancy and refreshing finish gives this wine a great gastronomic value.
Our predominant winemaking philosophy lets the grape's and terroir's inherent character shine through by using the least intervention.
The perfect Helfrich style: beautiful aromatics, delicate palate, crisp acidity and clean finish.
Helfrich wines are made with passion and the Alsatian spirit.
Our Savoir-Faire is consistently awarded and celebrated in the press.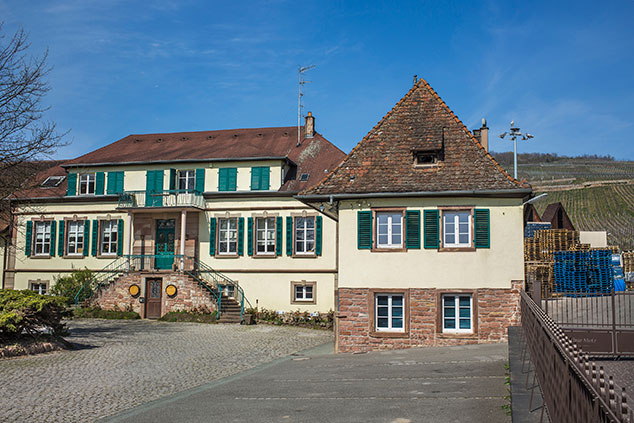 The winery (Arthur Metz) is in Marlenheim, Northwest of Strasbourg, the capital of the region.
Soils and Our Wines - Terroir d'Alsace
Approximately 300 miles east of Paris, Alsace is the second northernmost growing region (after Champagne) in France. The vineyards run north to south in a long strip on the eastern side of the Vosges Mountains, which provide a protective shield from oceanic influence and excessive rainfall. The climate is characterized by sunny, hot and dry days tempered by cool temperatures at night. The region's most important grape varieties are: Gewurztraminer, Riesling, Pinot Gris and Muscat.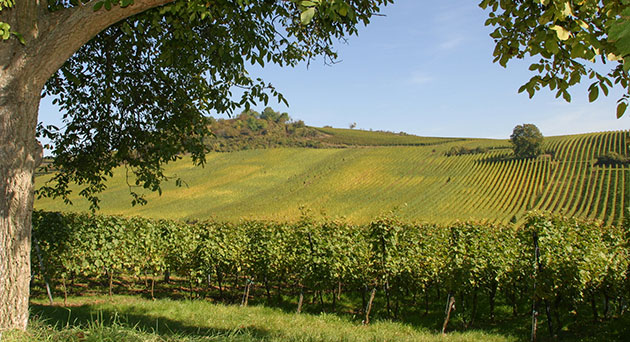 The soil of Alsace is unique and diverse, varying from red/pink sandstone from the Vosges Mountains to chalky clay, limestone, granite, schist and volcanic rock sediment. These varied types of soil contribute to the region's typical wine flavours. The combination of geography, climate and type of soil – the Terroir d'Alsace – is defined by a long growing season which allows the fruit's good physiologic ripeness. It will also maximize the development of beautiful aromas and flavours, great structure and complexity, lively acidity, distinctive minerality, and white wines that will age gracefully.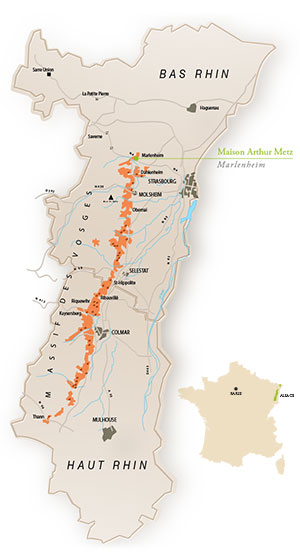 Helfrich wines are produced from vineyards around Marlenheim.
The family line of "Noble" wines is made with fruit sourced from six vineyards in the heart of Alsace's famous Couronne d'Or region near the city of Strasbourg.
The Grand Cru line is crafted with grapes from the Steinklotz Vineyard in Marlenheim, located in northern Alsace, on the eastern side of the Vosges Mountains.
NOBLE WINES
The Noble Helfrich wines are the result of each variety's aromatic expression using grapes coming from the Couronne d'Or (Golden Crown) vineyard.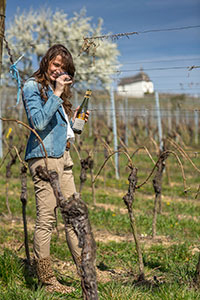 This vineyard covers 19 little towns surrounding Marlenheim near the city of Strasbourg, forming a circle (or "crown") and tracing a long wine-making history.
The vineyards are sloped (although not as steep as Steinklotz) with a south/southeast exposure. Thanks to the restrained oceanic influence due to the Vosges Mountains, the climate is sunny, hot and dry. The vines are dry-farmed and trained upwards for maximum exposure to the sun. Harvest takes place beginning of October using a combination of hand and mechanical harvesting to pick the grapes.
Aromatic wines: intense - fruity – structured – aromatic complexity
STEINKLOTZ GRAND CRU
ALSACE GRAND CRU status has only been given to 51 vineyards.
The Helfrich Grand Cru range is crafted with grapes from the Steinklotz Grand Cru Vineyard located behind the winery in Marlenheim.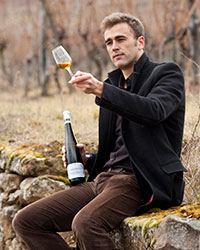 Steinklotz is one of the oldest vineyards in Alsace. Steinklotz Grand Cru (meaning block of stone) covers 40.6 hectares and is the northernmost Grand Cru vineyard in Alsace. The steep hillside (200 - 300m) is south/south-east facing and guarantees a great sun exposure.
The soil is mostly loamy and calcareous which gives the wines fruity and spicy aromas and persistent acidity. The wines from this terroir blossom with time and have a very long ageing potential. Rather muted in their youth, they develop towards an expressive lemony character over time.
Steinklotz is the oldest recorded vineyard in Alsace and was reported by Gregory of Tours in 589 AD as belonging to the Merovingian King Childebert II.
NOBLE VARIETIES

Riesling is widely known as a noble variety, it loves the long, cool and dry season which is due to the Vosges Mountains protecting the wines from marine influence.
Color: Golden yellow.
Nose: Fresh, well-structured, with aromas of orange and mandarin and mineral notes.
Palate: crisp, fruity, lively that lingers with hints of minerals.
Pairings: Sushi, Asian foods, white meats, Alsatian tarts, sauerkraut and smoked salmon.

Pinot Gris is honored in Alsace as a super-rich wine that can be paired with many different types of food.
Color: Golden, brilliant and limpid.
Nose: Discreet, and slightly fruity with aromas of small yellow fruit and almonds, developing into notes of pear and peach.
Palate: Rich and full, it reveals a pleasant and long finish with complex aromas. The wine reveals smoky aromas, with a hint of white-fleshed fruits like quince, apricot, peach and a final touch of citrus.
Pairings: Foie gras, grilled pork tenderloin, duck, mussels, crab.

Gewurztraminer is the quintessential Alsatian variety that thrives in the region's long, cool, dry seasons and in rich mineral soils.
Color: Golden yellow, great intensity.
Nose: Floral and spicy, with delicate hints of rose petal and lychee fruit.
Palate: Rich, full-bodied and well-structured, it reveals aromas of flowers, spices and exotic fruits, such as mango and passion fruit and develops with rich tangy notes that bring out the freshness of the wine.
Pairings: Spicy Asian cuisine, Chilean sea bass, smoked oysters, roasted chicken or turkey, as well as blue cheeses, Epoisse or Munster.

GRAND CRU STEINKLOTZ
The Helfrich Steinklotz Grands Crus are known for their intense aromas, their structure and complexity, their mineral nature from the terroir and their ageing potential.

Riesling

Grand Cru Steinklotz
Racy, well-structured and crisp
Color: Pretty shiny yellow complemented by platinum highlights.
Nose: This wine presents aromas of peach, pear, apple and white flowers with mineral notes.
Palate: The fresh, crisp palate brings an additional white floral and mineral character, which is accentuated by a persistent and lively acidity. Saline and mineral notes on the finish add even more complexity to this well-balanced and elegant wine.
Parings: Smoked salmon, grilled prawns or fish, sushi & sashimi, roasted poultry, cassolette of snails and mild cheeses.

Pinot Gris

Grand Cru Steinklotz
Wine with beautiful, complex aromas and opulent flavours, roundness and richness on the palate. Long and satisfying finish.
Color: Intense golden yellow.
Nose: is fresh and powerful, with appetizing notes of fruit. This wine boasts smoky aromas of undergrowth.
Palate: An initial sweetness in the mouth, along with a great texture dominated by notes of quince, almond and hints of citrus. A touch of acidity on the finish which balances the sweetness and enhances the lingering flavor. This Grand Cru is characterised by its complexity, its roundness and its richness.
Parings: Perfect for any occasion that calls for white wine. Also pairs beautifully with a wide range of flavors over an entire meal. Delicious with smoked trout, grilled or poached white fish in cream sauce, roasted pork, veal or duck, delicatessen, or simply as an aperitif.

Gewurtzraminer

Grand Cru Steinklotz
Fragrant with a silky structure.
Color: Beautiful golden yellow.
Nose: This wine offers intense aromas of exotic fruits such as lychee and passion fruit combined with notes of rose and lifted by subtle peppery spices. Very fragrant wine, with notes of candied fruit (apricot, clementine).
Palate: Solid fruity structure, featuring tart fruit and citrus characters which soon give way to more exotic notes. It is honeyed and long in the mouth. Nice acidity highlighting the aromas of roses and spices implied in the nose.
Parings: As an aperitif, with lobster, scallops, spicy Asian cuisine, Szechuan food, pork stewed in a sweet and sour sauce, roasted duck, cod fritters, foie gras and strong cheeses such as Epoisse, Munster or Fourme d'Ambert.

CREMANT D'ALSACE

Grape Varieties: 100% Pinot Blanc.
Color: Straw-yellow with green tints.
Nose: Fresh white-fleshed fruit aromas, fine bubbles.
Taste: Elegant, fruity and well-balanced. A clean attack brings its racy acidity up front before the full body comes to the fore with subtle flavors of white fruits. A refined and exciting palate.
The Helfrich family produces Cremant d'Alsace using the same painstaking method as neighboring Champagne. High quality fruit from some of the most prized vineyards in Alsace is harvested manually and early to preserve a maximum of fresh flavours and lively acidity. Before aging on fine lees for three months, the winemakers carry out an alcoholic fermentation under controlled temperatures.
Grapes are then vinified using the double bottle fermentation technique or methode Champenoise. Matured on lees for 24 months, Helfrich Crémant of exceptional quality is characterised by a beautiful fruity elegance and very fine bubbles. Riddling, disgorging and dosage complete the process.
The resulting wines have great elegance and finesse. Each bottling is fresh and lively with a delicate mousse, lovely fruity aromas and a crisp, clean finish. Enjoy these wines as a refreshing aperitif or paired to a vast selection of foods.
Crémant d'Alsace is the go-to wine at parties. Its light bubbles embody the essence of conviviality and friendship, but it is also suitable for the intimacy of a heart-to-heart.